about us
About Us


Natalie has worked with in textiles since graduating from Edinburgh College of Art for the last 10 years alongside lecturing at Heriot Watt University and ECA before embarking on an MA in printed Textiles at The Royal College of Art, which has always been one of her ambitions.

She has worked as a printed textiles designer both in studios in London and as a freelance designer based in Scotland, selling her designs worldwide to clients like DKNY and Calvin Klein. She has always had a strong focus on the surface design of the garment and an obsession for added detail and embellishment.

Her graduate collection is inspired and drawn from her Scottish roots and its heritage. She secured sponsorships from Peter Scott knit wear and Turnburry rug works after finishing her 1st year exploring tactility through fabric combinations and hand tufted wood panels.

Brought up in family in the building trade has inspired her use of wood within her collection and been her source of inspiration for her bold, strong hand drawn imagery sourced from architectural structures and planning layouts within her home town of Edinburgh.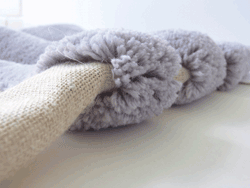 "As a textile designer I am always looking to explore new materials and there is no better place to have the opportunity to do so than The MA at the RCA. I have loved the endless possibilities that unusual material combinations bring to my work. It has been a challenging and exciting brief I have given myself for my MA collection. I have been mixing luxurious fabrics like cashmere/lambs wool and wood veneer alongside wood panels, polyurethane, organza, linen and hand tufted pieces." Having been torn initially between choosing interior or fashion, drove her to re contextualise materials between interior and fashion like wood and tufting and use them in an innovative and new way within her fashion collection and samples.